Rick Participates Giving Plane Rides to Thank Midwest Food Bank Volunteers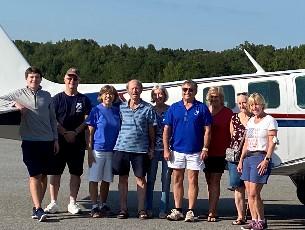 Rick Mantei (third from right) stands with volunteers from the Georgia branch of Midwest Food Bank.
The Falcon Field Regional Airport in Atlanta got a burst of energy on Saturday, September 11th upon the arrival of Rick Mantei and John Wilcox as they met a group of spirited volunteers from Midwest Food Bank in Peachtree City, Ga. Though based in Lexington, South Carolina, Rick holds flying events at the local airport in Peachtree City, and extended an invitation to the Midwest volunteers to thank them for their hard work.
Midwest Food Bank is a faith-based organization working to alleviate hunger locally and throughout the world as well as providing disaster relief. It distributes over $32 million worth of food to over 2,000 non-profit organizations each month through its locations across eight U.S. states as well as East Africa and Haiti.
In addition, it is a first responder to the Salvation Army, able to send family food boxes on the road to a disaster site within 24 hours of a request. Each of these boxes has enough food to feed a family of four for four to five days. The Georgia division of this organization opened its doors in 2011 and since has grown to serve 260 agency partners located in over 56 counties in six states.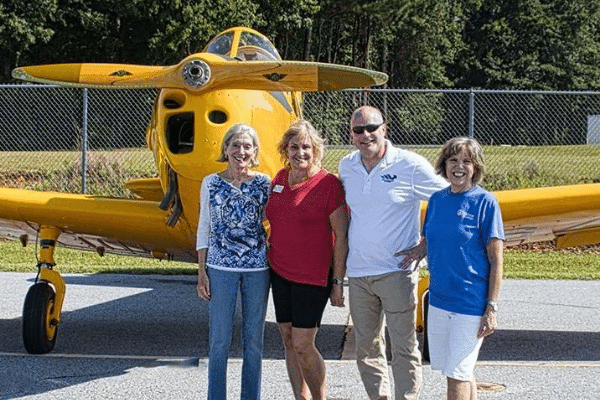 John "Buster" Wilcox (second from right) stands with Operations Director Gail Frantz (second from left) and two of her volunteers.
This massive undertaking of goodwill is only possible with the efforts of volunteers such as the folks Rick Mantei and John Wilcox met on Saturday, including Operations Director Gail Frantz. The group had a great time taking selfies and talking together as they flew three at a time in the Bonanza, then took a thrill ride in Mantei's bright yellow PT-26 Fairchild.
"Midwest Food Bank was very grateful for the opportunity to bless our volunteers with the wonderful experience of the special flights," said Frantz. "We appreciate the time and effort Rick invested in our volunteers, and we look forward to future opportunities."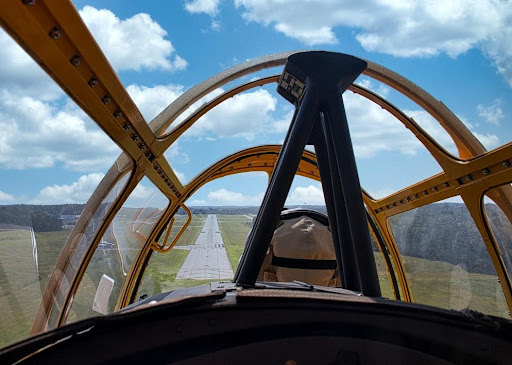 Midwest Food Bank's Jim Christopher shot this photo from the 1942 Fairchild PT-26 owned by Rick Mantei.